Монгол улс XX зууны олон улсын харилцааны тогтолцоонд: түүхч, дипломатч Ц. БАТБАЯР
Ю В Кузьмин

ОХУ-ын Эрхүүгийн Байгалийн Улсын Их сургууль
Abstract
No abstract in Mongolian language
Downloads
Download data is not yet available.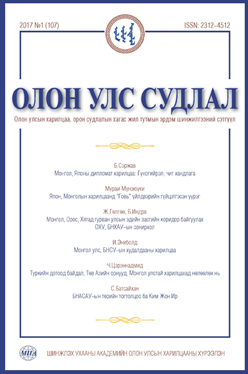 How to Cite
Кузьмин, Ю. (2018). Монгол улс XX зууны олон улсын харилцааны тогтолцоонд: түүхч, дипломатч Ц. БАТБАЯР. Journal of International Studies, (1), 174-185. https://doi.org/10.5564/jis.v0i1.999
Section
Мэдээ, мэдээлэл (News and Information)
Authors should transfer to Journal of International Studies all rights to their contributions, in Mongolia and worldwide, including rights to reproduction, public recitation, public broadcast, public transmission, public performance, adaptation and editing. No part of this journal may be reproduced in any form without prior permission from the editor.