Япончууд гэж хэн бэ?
Keywords:
япон хүн, япон соёл, Japanese, Japanese culture
Abstract
Энэхүү өгүүллээ япон хүний сэтгэлгээ, япон соёлын талаар 1948-2010 оны хооронд хэвлэгдсэн гадны болон японы судлаачдын гол судалгааны бүтээлийг авч үзэн, тэдгээрийн судалгааны үндсэн арга зүй, хүрсэн дүгнэлтийнх нь нийтлэг ба ялгаатай талыг тодруулахыг зорьсон болно. Ингээд өнөөг хүртэлх судалгааг арга зүйн талаас нь 1) харийн соёлтой харьцуулах аргаар япон соёлын байр суурийг тодорхойлохыг зорьсон, 2) бусад улс орны соёлыг өөртөө шингээн авсан арга замыг нь тайлбарлах аргаар япон соёл, япончуудын сэтгэлгээний онцлогийг тодруулахыг зорьсон, 3) гадны соёлын нөлөө харьцангуй бага туссан бүс нутгийн жишээгээр япончуудын соёл, сэтгэлгээний онцлогийг тодруулахыг зорьсон судалгаа хэмээн ангилан үзсэн бөгөөд дийлэнх судалгаанд япончуудыг дараах байдлаар нийтлэг дүгнэжээ гэж үзэж болохоор байна.
Өөрийгөө бодох гэсэн ойлголт тун сул, зөвхөн өөрийн хүчинд дулдуйдсан хувь хүн нийгэмд байр сууриа олоход хэцүү гэж ойлгож итгэдэг.
Харилцан зөвшилцөл, тэнцвэртэй байдал, нэг санаа гэсэн зарчмыг хатуу хэвшил болгон баримталдаг. Энэ нь нийгмийн тогтвортой байдал, нэгдмэл чанарыг хангахад гол тулгуур нь болдог.
Who is the Japanese?
Theory about the Japanese is a genre of texts that focus on issues of Japanese national and cultural identity by Japanese and by foreign scholars, journalists, and residents.
The concept became popular after World War II, initially including... books-and articles aiming to analyze, explain, or explore peculiarities of Japanese culture and mentality, usually by comparison with those of Europe and Western culture. Such texts share a general vision of what constitutes the uniqueness of Japan. Scholars commonly contribute to perspectives characteristic of the Japanese genre as follows:
Japanese psychology is defined by a particular cast of dependency wishes or desires that conduce to a unique form of human relationship.
Japanese social structures consistently remould human associations in terms of an archaic family or household model characterized by vertical relations. As a result, the individual cannot properly exist, since group will always prevail.
Downloads
Download data is not yet available.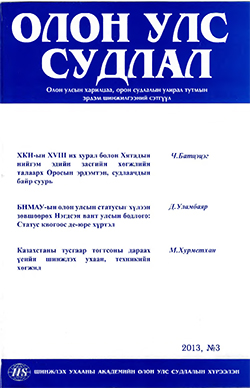 Downloads
How to Cite
Ц, О. (2013). Япончууд гэж хэн бэ?. Journal of International Studies, (3), 83–87. https://doi.org/10.5564/jis.v0i0.1651
License
Copyright (c) 2013 Онон Ц
This work is licensed under a Creative Commons Attribution 4.0 International License.
Copyright on any research article in the Journal of International Studies is retained by the author(s).
The authors grant the Journal of International Studies a license to publish the article and identify itself as the original publisher.

Articles in the Journal of International Studies are Open Access articles published under a Creative Commons Attribution 4.0 International License CC BY.
This license permits use, distribution and reproduction in any medium, provided the original work is properly cited.