Challenges and Opportunities of Mongolia's response to mitigate climate change
(Energy sector as an example)
Keywords:
Mongolia, Climate Change, Energy Sector, Opportunities and Challenges
Abstract
As part of the nationally determined contribution to the implementation of the Paris Agreement on Climate Change, Mongolia aims
to reduce greenhouse gas emissions (GHGs) by 2.7% by 2030. The country's per capita of greenhouse gas emissions are 2.7 times higher than the world average and relatively high in the region, and this is becoming a major issue. This is due to the fact that coal alone accounts for more than 90% of primary energy production, whereas renewable energy accounts for a small
proportion of total energy sources. Therefore, the role of the energy sector that emits the most greenhouse gas is important in reducing its fossil fuel consumption.
This study addresses the key issues facing Mongolia's energy sector in reducing greenhouse gas emissions and identifies opportunities for further actions. Furthermore, this will contribute to other studies on sustainable development, transition to a low-carbon economy, and implementation of energy policy recommendations.
Монгол орны уур амьсгалын өөрчлөлтийг сааруулах боломж, тулгарч буй сорилт (Эрчим хүчний салбарын жишээн дээр)
Хураангуй: Уур амьсгалын өөрчлөлтийн тухай Парисын хэлэлцээрийг хэрэгжүүлэх үндэсний хэмжээнд тодорхойлсон хувь нэмрийн (ҮХТХН/ NDC) хүрээнд манай улс хүлэмжийн хийн ялгарлыг (ХХЯ) 2030 он гэхэд 22,7% бууруулахаар зорилт тавин ажиллаж байна. Монгол Улсын нэг хүнд ногдох ХХЯ нь дэлхийн дунджаас даруй 2,7 дахин их, бүс нутгийн хэмжээнд харьцангуй өндөр байгаа нь тулгамдаж буй асуудал болж байна. Үүний гол шалтгаан нь анхагдагч эрчим хүчний бүтээгдэхүүний үйлдвэрлэлийн 90 гаруй хувийг нүүрс дангаараа бүрдүүлж, сэргээгдэх эрчим хүчний эх үүсвэр нь нийт эрчим хүчний эх үүсвэрт багахан хувийг эзэлж байгаатай холбоотой юм. Тиймээс ХХЯ-ыг хамгийн ихээр ялгаруулж буй эрчим хүчний салбарын хатуу түлшний хэрэглээг багасгахад гүйцэтгэх үүрэг чухал байна. Энэхүү өгүүлэлд хүлэмжийн хийг бууруулахад манай улсын эрчим
хүчний салбарт тулгамдаж буй гол гол асуудлыг хөндөж цаашид авч хэрэгжүүлэх боломж, гаргалгааг тодорхойлохыг зорьлоо. Ингэснээр тогтвортой хөгжил, бага нүүрстөрөгчийн эдийн засагт шилжих, эрчим хүчний бодлогын зөвлөмжийг хэрэгжүүлэх бусад судалгаанд хувь нэмэр оруулахад оршино.
Түлхүүр үгс: Монгол Улс, Уур амьсгалын өөрчлөлт, Эрчим хүчний салбар, боломж, сорилт
Downloads
Download data is not yet available.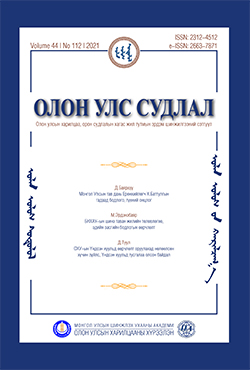 Downloads
How to Cite
Khishgee, S. (2021). Challenges and Opportunities of Mongolia's response to mitigate climate change: (Energy sector as an example). Journal of International Studies, 44(112), 140–156. https://doi.org/10.5564/jis.v44i112.1588
License
Copyright (c) 2021 Selenge Khishgee
This work is licensed under a Creative Commons Attribution 4.0 International License.
Copyright on any research article in the Journal of International Studies is retained by the author(s).
The authors grant the Journal of International Studies a license to publish the article and identify itself as the original publisher.

Articles in the Journal of International Studies are Open Access articles published under a Creative Commons Attribution 4.0 International License CC BY.
This license permits use, distribution and reproduction in any medium, provided the original work is properly cited.