Regarding two monographs by V.V.Graivoronski a prominent Mongolist of Russia
Baatar Ts

Institute of International Affairs, Mongolian Academy of Sciences, Mongolia
Abstract
Грайворонский Владимир Викторович бол Монгол судлалд 60 шахам жилийн ажил амьдралаа зориулж яваа ОХУ-ын нэрт монголч эрдэмтдийн нэг юм. Түүний судалгаанд Монголын шинэхэн түүх, Орчин үеийн Монголын улс төр, нийгэм-эдийн засгийн өөрчлөлт, Орос-Монголын харилцаа чухал байрь суурь эзэлдэг. Тэрбээр өнгөрсөн хугацаанд дээрх сэдвээр 130 гаруй судалгаа шинжилгээний бүтээл туурвижээ. Эртний анд, номын садан, нэрт Монгол судлаачын дээрх бүтээлүүдээс надад зориулж чинь сэтгэлийн үг бичиж бэлэглэсэн "Реформы в социальной сфере современной Монголии" /Москва, 2007/, "Изменения в уровне жизни населения Бурятии (Россия), Монголии и Внутренней Монголии (Китай) в конце ХХ- начале ХХI вв". /Лос-Анджелес, Улан-Батор. 2014/ нэгэн сэдэвт томоохон даацтай бүтээлүүдийг энд онцлон авч үзлээ.
Downloads
Download data is not yet available.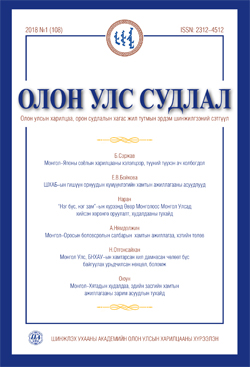 How to Cite
Ts, B. (2018). Regarding two monographs by V.V.Graivoronski a prominent Mongolist of Russia. Journal of International Studies, (1), 102-111. https://doi.org/10.5564/jis.v0i1.1124
Section
Номын шүүмж (Book Reviews)
Authors should transfer to Journal of International Studies all rights to their contributions, in Mongolia and worldwide, including rights to reproduction, public recitation, public broadcast, public transmission, public performance, adaptation and editing. No part of this journal may be reproduced in any form without prior permission from the editor.