Issues on trade and economic cooperation of Mongolia-China
Oyun Wuyun

Center of Mongolian Studies, Inner Mongolia University, China
Keywords:
Sino-Mongolian Economic and Trade Cooperation, One Belt and One Road, Development Road
Abstract
Upon the proposal "One Belt and One Road" brought up by China, Mongolia also proposed the "Development Road" conception, and both sides are speeding up the pace of docking through jointing efforts. The situation has brought a new high point in Sino-Mongolia economic and trade cooperation. The import and export trade volume and investment between China and Mongolia have revealed a growing trend since 2014, the trade volumes between China and Mongolia account for over 60% in total foreign trade of Mongolia. Besides, the investment method and scope in both sides have been expanding and deepening in all fields. However, there is still a long way in the Sino-Mongolia economic and trade cooperation. Through the policies of the "One belt and One road" and the "Development Road", there will be more opportunities would push bilateral economic and trade cooperation to a new record.
Downloads
Download data is not yet available.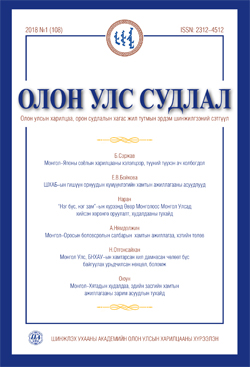 How to Cite
Wuyun, O. (2018). Issues on trade and economic cooperation of Mongolia-China. Journal of International Studies, (1), 81-101. https://doi.org/10.5564/jis.v0i1.1123
Authors should transfer to Journal of International Studies all rights to their contributions, in Mongolia and worldwide, including rights to reproduction, public recitation, public broadcast, public transmission, public performance, adaptation and editing. No part of this journal may be reproduced in any form without prior permission from the editor.