Properties of humic substances isolated from different natural sources
G Dolmaa

Institute of Chemistry, Chemical Technology, MAS, Peace avenue, Ulaanbaatar 13330

GP Aleksandrova

Institute of Chemistry Siberian Branch of RAS, Favorsky St., Irkutsk, 664033

MB Lesnichaya

Institute of Chemistry Siberian Branch of RAS, Favorsky St., Irkutsk, 664033

B Nominsetseg

Institute of Chemistry, Chemical Technology, MAS, Peace avenue, Ulaanbaatar 13330

G Ganzaya

Institute of Chemistry, Chemical Technology, MAS, Peace avenue, Ulaanbaatar 13330

B Bayraa

Institute of Chemistry, Chemical Technology, MAS, Peace avenue, Ulaanbaatar 13330

BG Sukhov

Institute of Chemistry Siberian Branch of RAS, Favorsky St., Irkutsk, 664033

D Regdel

Institute of Chemistry, Chemical Technology, MAS, Peace avenue, Ulaanbaatar 13330

BA Trofimov

Institute of Chemistry Siberian Branch of RAS, Favorsky St., Irkutsk, 664033
Keywords:
peloid, brown coal, humic substance, shale, organic matter
Abstract
The purpose of study was to determine properties of humic substances by combination of modern and traditional methods. Humic substances isolated from three different sources from Mongolia such as peloid from Lake Gurban nuur, coal from Baganuur deposit and oil shale from Shine khudag deposit.
On the basis of determination H/C and O/C atomic ratios in humic substances by elemental analysis, confirmed existing of aromatic structures in the molecules and oxidized functional groups.
Have been studied the structure of humic substances by spectral method. For example infrared spectrums showed that humic substances are characterizing with poly-structural components, with different quantity in the samples. Light adsorption of samples in the UV-Vis region, a decrease on the absorption intensity with an increase of the wave length was observed (Fig. 2). The high ratio Н/С, attributed to stretching of C=C bond of aromatic rings in IR spectrums, the high content of functional groups, lower extinction coefficients, confirmed that aromatic fragments to prevail than aliphatic chain fragments in structure of all studied HS.
DOI: http://dx.doi.org/10.5564/mjc.v14i0.199
Mongolian Journal of Chemistry 14 (40), 2013, p51-56
Downloads
Download data is not yet available.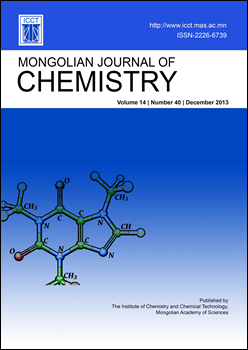 How to Cite
Dolmaa, G., Aleksandrova, G., Lesnichaya, M., Nominsetseg, B., Ganzaya, G., Bayraa, B., Sukhov, B., Regdel, D., & Trofimov, B. (2014). Properties of humic substances isolated from different natural sources. Mongolian Journal of Chemistry, 14, 51-56. https://doi.org/10.5564/mjc.v14i0.199
Copyright on any research article in the Mongolian Journal of Chemistry is retained by the author(s).
The authors grant the Mongolian Journal of Chemistry a license to publish the article and identify itself as the original publisher.

Articles in the Mongolian Journal of Chemistry are Open Access articles published under a Creative Commons Attribution 4.0 International License CC BY.
This license permits use, distribution and reproduction in any medium, provided the original work is properly cited.