Chemical composition and biological activities of the Agaricus mushrooms
L Munkhgerel

Institute of Chemistry and Chemical Technology, MAS, Peace ave., Ulaanbaatar 13330

N Erdenechimeg

Institute of Chemistry and Chemical Technology, MAS, Peace ave., Ulaanbaatar 13330

B Tselmuungarav

National University of Mongolia

B Amartuvshin

Institute of Chemistry and Chemical Technology, MAS, Peace ave., Ulaanbaatar 13330

Ts Bolor

Institute of Chemistry and Chemical Technology, MAS, Peace ave., Ulaanbaatar 13330

D Regdel

Institute of Chemistry and Chemical Technology, MAS, Peace ave., Ulaanbaatar 13330

P Odonmajig

Institute of Chemistry and Chemical Technology, MAS, Peace ave., Ulaanbaatar 13330
Keywords:
Agaricus silvaticus, Agaricus arvensis, Free radical-scavenging activity, DPPH, IFN-like activity, luciferase
Abstract
Two species of Agaricus mushroom grown in Mongolia were analyzed for their element content. Biological activity and chemical components study of Agaricus, grown in the Mongolian flora has been investigated for the first time. The ethanol extracts of dried Agaricus sp. mushrooms were analyzed for antioxidant activity on 1,1-diphenyl-2- picrylhydrazyl (DPPH) radicals and interferon-like activity. The ethanol extracts from Agaricus arvensis showed the most potent radical scavenging activity. The IC50 of A. silvaticus and A. arvensis were 216 and 17.75 g/ml respectively. Among the twenty three mushroom extracts, the extracts from A. silvatisus and A. arvensis have shown the interferon-like activity.
DOI: http://dx.doi.org/10.5564/mjc.v14i0.197
Mongolian Journal of Chemistry 14 (40), 2013, p41-45
Downloads
Download data is not yet available.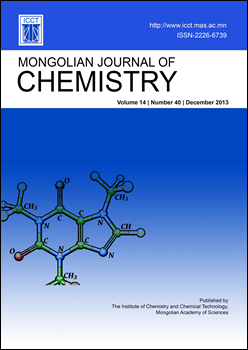 How to Cite
Munkhgerel, L., Erdenechimeg, N., Tselmuungarav, B., Amartuvshin, B., Bolor, T., Regdel, D., & Odonmajig, P. (2014). Chemical composition and biological activities of the Agaricus mushrooms. Mongolian Journal of Chemistry, 14, 41-45. https://doi.org/10.5564/mjc.v14i0.197
Copyright on any research article in the Mongolian Journal of Chemistry is retained by the author(s).
The authors grant the Mongolian Journal of Chemistry a license to publish the article and identify itself as the original publisher.

Articles in the Mongolian Journal of Chemistry are Open Access articles published under a Creative Commons Attribution 4.0 International License CC BY.
This license permits use, distribution and reproduction in any medium, provided the original work is properly cited.