Thermal processing of Khoot coal and characterization of obtained solid and liquid products
S Batbileg

Institute of Chemistry and Chemical Technology, Mongolian Academy of Sciences

B Purevsuren

Institute of Chemistry and Chemical Technology, Mongolian Academy of Sciences

Ya Davaajav

Institute of Chemistry and Chemical Technology, Mongolian Academy of Sciences

J Namkhainorov

Institute of Chemistry and Chemical Technology, Mongolian Academy of Sciences
Keywords:
coal, petrographic analysis, pyrolysis, thermolysis, activated carbon, tar
Abstract
On 21st January 2015, the abstract of this paper was replaced with the correct abstract.
The coal of Khoot deposit have been investigated and determined the technical characteristics, elemental and petrographical maceral compositions. On the basis of proximate, ultimate, petrographic and IR analysis results have been confirmed that the Khoot coal is a sub-bituminous coal. The hard residue after pyrolysis have been activated by heated water steam and determined the iodine and methylene blue adsorption of initial coal and activated carbon samples from pyrolysis hard residue. The porosity structure of initial coal, activated carbon of pyrolysis hard residue and hard residue after thermolysis (thermal dissolution) have been determined by SEM analysis. The liquid tar product of thermolysis of Khoot coal was investigated by FTIR, 13C and 1H NMR spectrometric analysis. The results of thermolysis of Khoot coal in tetralin with constant mass ratio between coal and tetralin (1:1.8) at 450°C show that 60.8% of liquid product can be obtained after thermolysis of the coal organic mass.
DOI: http://doi.dx.org/10.5564/mjc.v15i0.326
Mongolian Journal of Chemistry 15 (41), 2014, p66-72
Downloads
Download data is not yet available.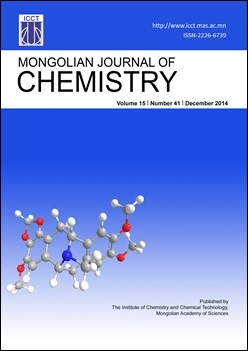 How to Cite
Batbileg, S., Purevsuren, B., Davaajav, Y., & Namkhainorov, J. (2014). Thermal processing of Khoot coal and characterization of obtained solid and liquid products. Mongolian Journal of Chemistry, 15, 66-72. https://doi.org/10.5564/mjc.v15i0.326
Copyright on any research article in the Mongolian Journal of Chemistry is retained by the author(s).
The authors grant the Mongolian Journal of Chemistry a license to publish the article and identify itself as the original publisher.

Articles in the Mongolian Journal of Chemistry are Open Access articles published under a Creative Commons Attribution 4.0 International License CC BY.
This license permits use, distribution and reproduction in any medium, provided the original work is properly cited.