Activated carbons from Mongolian coals by thermal treatment
A Ariunaa

Institute of Chemistry and Chemical Technology, MAS, Ulaanbaatar 51

J Narangerel

Central Laboratory for Coal Research, Mineral Resources Authority of Mongolia

B Purevsuren

Central Laboratory for Coal Research, Mineral Resources Authority of Mongolia

R Erdenechimeg

Central Laboratory for Coal Research, Mineral Resources Authority of Mongolia
Keywords:
lignite, subbituminous and bituminous coals, activated carbon, oxidized carbon
Abstract
Mongolian different rank coals were used as raw material to prepare activated
carbons by physical activation method. The coal derived carbons were oxidized with nitric acid in order to introduce surface oxygen groups. The ultimate elemental analysis, scanning electron microscopy, surface area, pore size distribution analysis and selective neutralization method were used to characterize the surface properties of activated carbons, oxidized
carbons and raw coals. The effect of coal grade on the adsorption properties of the carbons were studied. It was concluded that Naryn sukhait bituminous coal could be serve as suitable raw material for production of activated carbons for removal of heavy metal ions from solution.
DOI: http://dx.doi.org/10.5564/mjc.v12i0.174
Mongolian Journal of Chemistry Vol.12 2011: 60-64
Downloads
Download data is not yet available.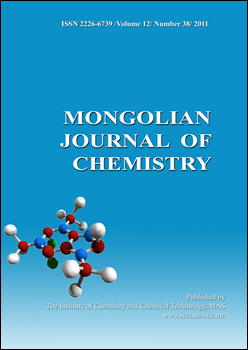 How to Cite
Ariunaa, A., Narangerel, J., Purevsuren, B., & Erdenechimeg, R. (2014). Activated carbons from Mongolian coals by thermal treatment. Mongolian Journal of Chemistry, 12, 60-64. https://doi.org/10.5564/mjc.v12i0.174
Copyright on any research article in the Mongolian Journal of Chemistry is retained by the author(s).
The authors grant the Mongolian Journal of Chemistry a license to publish the article and identify itself as the original publisher.

Articles in the Mongolian Journal of Chemistry are Open Access articles published under a Creative Commons Attribution 4.0 International License CC BY.
This license permits use, distribution and reproduction in any medium, provided the original work is properly cited.