AN ATTEMPT TO PRODUCE RECOMBINANT HORSE INSULIN
Keywords:
Equine, pancreas, proinsulin, gene, primer, cloning, purification
Abstract
The present study aimed to produce horse insulin by use of recombinant DNA technology. Because the hormones such as somatotropin, prolactin and leptin, which are practically applicable in veterinary medicine, are also peptides, they can be obtained on the basis of this model technology. To isolate total RNA, horse pancreas samples were collected in RNA stabilizing solution from local abattoirs, sent to the laboratory, and stored the samples in the freezer at -80°C. Molecular biological reagents and kits for total RNA extraction,one step RT (reverse transcription)-PCR reactions, cloning, expression, and purification were used to produce equine proinsulin. Primers were designed from NCBI gene bank data and synthesized in Macrogen Inc, Korea. Obtained equine proinsulin was processed by enzymes trypsin and carboxypeptidase B to form mature insulin. The purity of insulin was assessed by SDS-PAGE. Molecular weight of insulin is approximately 6.0 kDa. The hormone was also measured by ELISA test and it was equal to 55 IU per ml of solution. Finally it can be concluded equine insulin with 55 IU/ml activity can be produced by recombinant DNA technology.
Downloads
Download data is not yet available.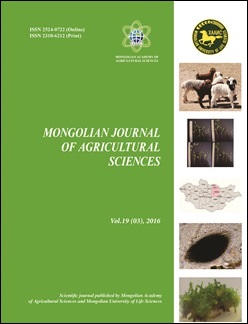 Downloads
How to Cite
D., B., S., L., B., M., B., T., B., B.-E., & Ya., G. (2017). AN ATTEMPT TO PRODUCE RECOMBINANT HORSE INSULIN. Mongolian Journal of Agricultural Sciences, 19(3), 3–9. https://doi.org/10.5564/mjas.v19i3.728
License
Copyright on any research article in the Mongolian Journal of Agricultural Sciences is retained by the author(s).
The authors grant the Mongolian Journal of Agricultural Sciences a license to publish the article and identify itself as the original publisher.

Articles in the Mongolian Journal of Agricultural Sciences are Open Access articles published under a Creative Commons Attribution 4.0 International License CC BY.
This license permits use, distribution and reproduction in any medium, provided the original work is properly cited.