Research study on possibilities to increase Mongolian mutton industry
Keywords:
sustamability, body weight, pasture,
Abstract
According to current tendencies of world sheep industry development and suiting to government strategy to intensifying animal husbandry! and production especially in meat industryк we have developed a strain using the Barga meat and fat breed ram onto local Mongolian breed sheep by outbreeding method which increased meat yield and tail fat accumulation.
The National Institute of Animal Husbandry/ has conducted research studies from 2011 to 2015 in Arvaikheer, Baruunbayan-Ulaan, Bat-Ulzii, Bayan-Undur, Bavangol, Bogd, Guchin-Us, Yusunzuil, Zuunbayan-Ulaan, Narunteel, Ulznt, Sant, Taragt.Tugrug, Uyanga, Khairkhan-Dulaan, Kharkhonn and Khujirt soums of Uvurkhangai aimag aiming at documenting growth and development of offspring from outbreeding Barga ram and local Mongolian breed sheep, for 4.5 years of duration by commonly used methods which expresses comparative results of live body weight by kilogram and determined the overall and relative growth.
In pasture grazing condition, birth weights of lambs were 3. 76±0.25-3.85±0.12 kg and at 8 months of age 36.46±0.37kg which shows rapid growth with daily addition of 140 grams of weight. In the following months, due to poor nutrition and pasture for ewes, milk yield decreases drastically which directly affects lambs along with inadequate food supplement given which slowed intensity/ of growth, however during summer and autumn season, lambs gained weight and at 18 months of age, body weight were 53.6±0.35kg which is 8.5-8.7 times higher than those of new born weight.
Downloads
Download data is not yet available.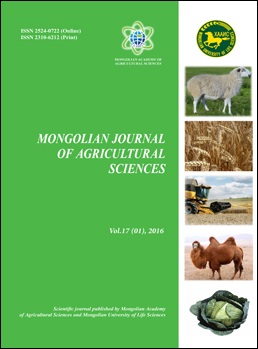 Downloads
How to Cite
Baatartuya, D., Batsukh, T., Oyuntungalag, T., Lugtegsuren, A., & Badamdorj, D. (2017). Research study on possibilities to increase Mongolian mutton industry. Mongolian Journal of Agricultural Sciences, 17(1), 10–14. https://doi.org/10.5564/mjas.v17i1.720
License
Copyright on any research article in the Mongolian Journal of Agricultural Sciences is retained by the author(s).
The authors grant the Mongolian Journal of Agricultural Sciences a license to publish the article and identify itself as the original publisher.

Articles in the Mongolian Journal of Agricultural Sciences are Open Access articles published under a Creative Commons Attribution 4.0 International License CC BY.
This license permits use, distribution and reproduction in any medium, provided the original work is properly cited.