Legal opportunity to implement 3D cadastre in Mongolia
Keywords:
legislation, registration, survey, spatial registration
Abstract
The latest trends in the development of global land cadastre are spatial or 3D cadastre. Despite the fact that the land cadastre in our country has been developing rapidly over the past 20 years, the technology and method of land cadastre are still based on the principle of traditional 2D cadastre. Therefore, we conducted a survey of the land cadastre legal environment of Mongolia to introduce 3D cadastre. The first law on land cadastre activity is the Cadastre Mapping and Land Cadastre Law, which has been regulating for 21 years since 1999.  Within the framework of National program to introduce an integrated registration system in Mongolia, Government Resolution 78 was adopted in 2008. This document addresses the issue of introducing "3D cadastral surveying and registration system" in the development of spatial databases, but has not been developed as a legal document. This research focuses on analysis of 10 selected laws, which are most relevant and consistent with the purpose of regulating the 3D cadastre from the package of land laws and thorough examination of each law, selection, and analysis of information taking into account legal terminology, cadastral mapping, registration of rights, and database. The general concept and content of the laws under study are in accordance with the general legal concept of 3D cadastral relations. The first step in improving the legal environment for 3D cadastre is the amendment to the law on cadastral surveying and land cadaster and other regulations can be adopted through improving, updating and developing government regulations and relevant standards.
Монгол улсад 3D кадастрыг нэвтрүүлэх хууль эрх зүйн боломж
Дэлхий нийтийн газрын кадастрын хөгжлийн хамгийн сүүлийн үеийн чиг хандлага нь орон зайн буюу 3D кадастр юм. Манай улсын газрын кадастр нь сүүлийн 20 жилийн хугацаанд хурдацтай хөгжиж байгаа ч кадастрын технологи, арга зүй нь уламжлалт 2D кадастрын зарчимд тулгуурласан хэвээр байна. Иймд бид 3D кадастрыг нэвтрүүлэх зорилгоор Монгол улсын газрын кадастрын эрх зүйн орчинд судалгааг хийв. Газрын кадастрын үйл ажиллагааг зохицуулах анхны бие даасан хууль нь Кадастрын зураглал ба газрын кадастрын тухай хууль бөгөөд 1999 оноос хойш 21 жил хүчин төгөлдөр мөрдөгдөж байна. Монгол улсад бүртгэлийн нэгдсэн тогтолцоог бий болгох үндэсний хөтөлбөрийн хүрээнд Засгийн газрын 2008 оны 78-р тогтоол батлагдсан. Энэхүү баримт бичигт орон зайн мэдээллийн санг боловсронгуй болгох чиглэлээр "гурван хэмжээст кадастрын зураглал болон бүртгэлийн тогтолцоог нэвтрүүлэх" асуудлыг тусгасан боловч энэ нь эрх зүйн хүрээний баримт бичиг болон тусгайлан боловсруулагдаагүй байна. Энэхүү судалгааны ажилд 3D кадастрыг хуулийн хүрээнд зохицуулах, хамгийн тохиромжтой, зорилготой нийцэхүйц газрын харилцааны багц хуулиудаас арван хуулийг сонгон авч, хууль тус бүрийг нарийн судлан хуулийн нэр томъёо, кадастрын зураглал, эрхийн бүртгэл, мэдээллийн сан гэсэн үзүүлэлтүүдийг харгалзан, мэдээллүүдийг сонгон авч түүнд дүн шинжилгээ хийхэд чиглэсэн. Судалгаанд хамрагдсан хуулиудын ерөнхий үзэл баримтлал, агуулга цар хүрээ нь 3D кадастрын харилцааг зохицуулах эрх зүйн суурь үзэл баримтлалтай өргөн агуулгаараа нийцэж байна. 3D кадастрын эрх зүйн орчныг боловсронгуй болгох эхний алхам бол Кадастрын зураглал ба газрын кадастрын хуульд нэмэлт өөрчлөлт оруулах явдал бөгөөд бусад харилцааг засгийн газрын дүрэм, журам, норм нормативыг шинэчлэх, шинээр боловсруулах зэргээр зохицуулах бүрэн боломжтой гэж үзэж байна.
Түлхүүр үг: хууль, эрх зүй, бүртгэл, зураглал, орон зайн бүртгэл
Downloads
Download data is not yet available.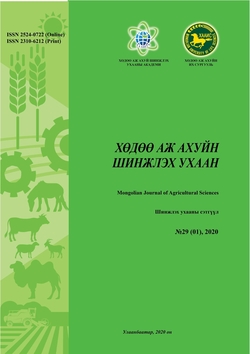 Downloads
How to Cite
Jargalsaikhan, E., Borchuluun, K., Turbat, S., & Indra, M. (2020). Legal opportunity to implement 3D cadastre in Mongolia. Mongolian Journal of Agricultural Sciences, 29(1), 157–161. https://doi.org/10.5564/mjas.v29i1.1385
License
Copyright on any research article in the Mongolian Journal of Agricultural Sciences is retained by the author(s).
The authors grant the Mongolian Journal of Agricultural Sciences a license to publish the article and identify itself as the original publisher.

Articles in the Mongolian Journal of Agricultural Sciences are Open Access articles published under a Creative Commons Attribution 4.0 International License CC BY.
This license permits use, distribution and reproduction in any medium, provided the original work is properly cited.