Surveillance results of communicable swine diseases in breeding pig farms near Ulaanbaatar city
Bayarmaa Sukhbaatar

Ulaanbaatar Veterinary Office, Ulaanbaatar, Mongolia

Amartuvshin Tsolmon

State Central Veterinary Laboratory, Ulaanbaatar, Mongolia

Shurenchimeg Badamjav

State Central Veterinary Laboratory, Ulaanbaatar, Mongolia

Gantumur Tsedee

Ulaanbaatar Veterinary Office, Ulaanbaatar, Mongolia

Erdenebat Bulgan

Ulaanbaatar Veterinary Office, Ulaanbaatar, Mongolia

Narantuya Ayushjav

Ulaanbaatar Veterinary Office, Ulaanbaatar, Mongolia

Tserenchimed Sainnokhoi

State Central Veterinary Laboratory, Ulaanbaatar, Mongolia

Ganzorig Basan

State Central Veterinary Laboratory, Ulaanbaatar, Mongolia

Odbileg Raadan

Institute of Veterinary Medicine, Mongolian University of Life Sciences, Ulaanbaatar, Mongolia
Keywords:
swine infectious diseases, ELISA, surveillance, antibody
Abstract
We have done laboratory-based analyses of highly contagious and infectious swine diseases commonly occurring in household and pig farms on 200 swine serum samples collected from Bayanzurkh, Songinokhairkhan, Nalaikh, Khan-Uul district of Ulaanbaatar city, to establish the rate of infection, to gather information on farming and bio-security, to further detect this infectious diseases, for the purpose of risk assessment and preventive research.  According to ELISA test results Classical swine fever 27 (13.5%), Parvovirus 50 (25%), Influenza 16 (8%), Circovirus 112 (56%) samples had shown positive results. Presence of classical swine fever antibody in 27/200 samples are reaction of vaccine immunization.  Also antibody presence of Swine parvovirus, Influenza, circovirus in samples indicates necessity of make it clear that whether symptomless cases around farms.  But antibody absence of porcine food and mouth disease, porcine reproductive and respiratory syndrome virus, swine mycoplasmosis transmissible gastro-enteritis, coronovirus, leptospirosis, brucellosis indicates such disease free in farms. Antibody absence of African swine fever done by surveillance this time shows no further infection however it was occurred in Mongolia early in 2019.  Fundamental surveying is a key tool for monitoring health status of pig farm and formulating eradication program for swine infectious diseases as well as help farmers prevent economic losses by implementing prophylactic measures against sudden cases of such diseases. Thus we suggest that above mentioned surveillance study need to be continued as a tool for monitoring because of it is importance of keep pig farmers sustainable, furthermore crucial for nation`s economy.
Улаанбаатар хотын ойролцоо үржүүлж буй гахайд зонхилон тохиолдох халдварт өвчнүүдийг тандан судалсан дүн
Улаанбаатар хотын Баянзүрх, Налайх, Сонгинохайрхан, Хан-Уул зэрэг 4 дүүргийн өрхийн болон аж ахуйн гахайд зонхилон тохиолддог гоц болон халдварт өвчнүүдийн лабораторид суурилсан шинжилгээг хийх, халдварлалтын түвшинг тогтоох, аж ахуй эрхлэлт, биоаюулгүй байдлын талаар мэдээлэл цуглуулах, цаашид халдварт өвчнийг эрт илрүүлэх, эрсдэлийг үнэлэх, урьдчилан сэргийлэх судалгааны ажлын зорилгын хүрээнд нийт 200 дээжинд эсрэгбием илрүүлэх ЭЛИЗА урвалаар шинжилгээг хийхэд гахайн сонгомол мялзан 27 (13.5%), парвовирус 50 (25%), томуу 16 (8%), цирковирус 112 (56%) дээж эерэг дүн үзүүлэв. Гахайн сонгомол мялзан өвчний эсрэгбием (27/200) илэрсэн нь урьдчилан сэргийлэх зорилгоор тарьсан вакцины урвал юм. Гахайн парвовирус, гахайн томуу, гахайн цирковирус зэрэг өвчний вирусын эсрэгбием илэрч байгаа нь ил шинж тэмдэггүй, халдварын тархалт байгаа эсэхийг баталгаажуулах шаардлагатайг харуулж байна. Харин гахайн шүлхий, микоплазм, гахайн үржил, амьсгалын замын хам шинж, гахайн ходоод гэдэсний замын халдварт үрэвсэл, коронавирус, лептоспироз, бруцеллёз зэрэг өвчний эсрэгбием илрээгүй нь халдваргүйг харуулж байна. Гахайн африкийн мялзан өвчин Монгол оронд 2019 оны эхээр гарч байсан ч энэ удаагийн тандалтаар эсрэгбием илрээгүй нь өвчлөл дахиж гараагүй болохыг харуулж байна. Тандан судалгаа нь гахайн эрүүл мэндийг хянах, эрүүлжүүлэх хөтөлбөрийг боловсруулах гахайн аж ахуйд тохиолдох эдийн засгийн болзошгүй эрсдэлээс урьдчилан хянахад чухал ач холбогдолтой.  Тиймээс энэхүү суурь судалгааг жил бүр тогтмол хийх нь гахайн аж ахуйг тогтвортой байлгах төдийгүй улс орны эдийн засагт чухал ач холбогдолтой тул гахайн эрүүл мэндийг хянах зорилгоор үргэлжлүүлэн хийж байх шаардлагатай байна.
Түлхүүр үг: Гахайн халдварт өвчнүүд, ЭЛИЗА, тандан судалгаа, эсрэгбием
Downloads
Download data is not yet available.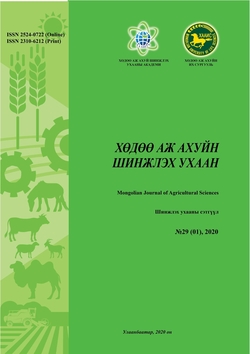 How to Cite
Sukhbaatar, B., Tsolmon, A., Badamjav, S., Tsedee, G., Bulgan, E., Ayushjav, N., Sainnokhoi, T., Basan, G., & Raadan, O. (2020). Surveillance results of communicable swine diseases in breeding pig farms near Ulaanbaatar city. Mongolian Journal of Agricultural Sciences, 29(1), 56-63. https://doi.org/10.5564/mjas.v29i1.1316
Copyright (c) 2020 Bayarmaa Sukhbaatar, Amartuvshin Tsolmon, Shurenchimeg Badamjav, Gantumur Tsedee, Erdenebat Bulgan, Narantuya Ayushjav, Tserenchimed Sainnokhoi, Ganzorig Basan, Odbileg Raadan
This work is licensed under a Creative Commons Attribution 4.0 International License.
Copyright on any research article in the Mongolian Journal of Agricultural Sciences is retained by the author(s).
The authors grant the Mongolian Journal of Agricultural Sciences a license to publish the article and identify itself as the original publisher.

Articles in the Mongolian Journal of Agricultural Sciences are Open Access articles published under a Creative Commons Attribution 4.0 International License CC BY.
This license permits use, distribution and reproduction in any medium, provided the original work is properly cited.