Distribution of weed species in the agricultural regions differential by climate
Ogtonbaatar I

Institute of Plant Protection, Mongolian University of Life Sciences, Ulaanbaatar, Mongolia

Azzaya T

Institute of Plant Protection, Mongolian University of Life Sciences, Ulaanbaatar, Mongolia

Otgonsuren M

Institute of Plant Protection, Mongolian University of Life Sciences, Ulaanbaatar, Mongolia
Keywords:
Level of waste, density, detriment
Abstract
In agricultural fields of 47 soums of Bulgan, Darkhan-Uul, Selenge and Tuv provinces in central region had 66 species belongs to 23 genus and 54 families weeds recorded and its weedness evaluation were 1 point in 5.4%, 2 points in 33%, 3 points in 32.4%, 4 points in 18.3% and 5 points in 18.3% on all fields, respectively. In agricultural fields of 17 soums of Khentii, Dornod and Sukhbaatar provinces in eastern region had 71 species weeds recorded and out of these, 49.2% was annual, 10.3% was biennial and 40.5% was perennial weeds. But in 17 soumd of Bayan-Ulgii, Uvs and Zavkhan provinces 36 species weeds recorded and all of that belongs to 17 genus and 34 families. Percentage of weeds were divided were 44.4% was annual, 11.1% was biennial and 45.5% was perennial. All recorded weed species were same on agricultural fields in central and eastern regions and weedness evaluation rate was more than western region
Цаг уурын нөхцлөөр ялгаатай бүс нутгуудын тариалангийн талбайн хог ургамлын тархалт, зүйлийн бүрэлдэхүүнийг тогтоосон дүнгээс
Хураангуй: Газар тариалангийн Төв бүсийн Төв, Сэлэнгэ, Булган, Дархан–Уул аймгийн нийт 48 сумын  55291.8га талбайд 23 овог, 54 төрөлд хамаарагдах 66 зүйлийн хог ургамлууд зонхилон нийт  хог ургамлын 49.2% нэг наст, 10.3% хоёр наст, 40.5% олон наст хог ургамал тэмдэглэгдэж,  Зүүн бүсийн Сүхбаатар, Дорнод, Хэнтий аймгийн нийт 17 сумын 28601га талбайд 21 овог, 48  төрөлд хамаарагдах 71 зүйлийн хог ургамлын нэг наст 31.9%, хоёр наст 8.2%, олон наст  59.9% тархсан нь хог ургамлаас зүйлийн бүрэлдэхүүний хувьд газар тариалангийн төвийн  бүстэй ойролцоо байв. Баруун бүсийн Завхан, Увс, Баян-Өлгий аймгийн нийт 17 сумын 28601га  талбайд 17 овог, 30 төрөлд хамаарагдах 36 зүйлийн хог ургамал тэмдэглэгдэж, нийт хог  ургамлын 44.4% нэг наст, 11.1% хоёр наст, 44.5% олон наст хог ургамал тэмдэглэгдсэн нь  Төв болон Зүүн бүсийн тариалангийн талбайд тархсан хог ургамалтай харьцуулахад өндөр  уулын сэрүүн нөхцөлд ургах чадвар сайтай нэг болон олон наст хос үрийн талт хог ургамлын  тархалт их, нэг наст үет хог ургамлын тархалт бага, 1–2 баллын хогтолтын түвшинд  байлаа. Судалгаанд хамрагдсан тариалангийн талбайд таримлын ургацад сөрөг нөлөө  үзүүлдэг зонхилон тархсан хөнөөлт хог ургамлын зүйлийн бүрэлдэхүүний өөрчлөлтөнд  байгаль, цаг уурын нөхцөл онцгой нөлөөтэй болох нь бидний судалгаанаас харагдаж байна.
Түлхүүр үг: Хогтолтын түвшин, нягтрал, хөнөөл
Downloads
Download data is not yet available.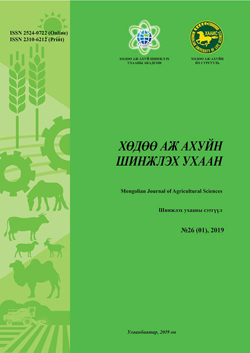 How to Cite
I, O., T, A., & M, O. (2019). Distribution of weed species in the agricultural regions differential by climate. Mongolian Journal of Agricultural Sciences, 26(01), 135-140. https://doi.org/10.5564/mjas.v26i01.1208
Copyright (c) 2019 Ogtonbaatar I, Azzaya T, Otgonsuren M
This work is licensed under a Creative Commons Attribution 4.0 International License.
All rights reserved. Submission of a manuscript implies
that the submitted work has not been published before (except as part of a thesis or lecture note or report, or in the form of an abstract);
that it is not under consideration for publication elsewhere;
that its publication has been approved by all co-authors as well as by the authorities at the institutions where the work has been carried out;
that, if and when the manuscript is accepted for publication, the authors hand over the transferable copyrights of the accepted manuscript to the journal, and
that the manuscript or parts thereof will thus not be published elsewhere in any language without the consent of the copyright holder.
Copyrights include electronic and visual reproduction and distribution; electronic storage and retrieval; and all other forms of publication or any other types of publication including all subsidiary rights.