Larch regeneration (larix sibirica.ldb) from zygote embryos in in vitro and proliferation rate under growth hormone influence
Tserendejid L

School of Animal Science and Biotechnology, Mongolian University of Life Sciences, Ulaanbaatar, Mongolia

Enkhchimeg V

School of Animal Science and Biotechnology, Mongolian University of Life Sciences, Ulaanbaatar, Mongolia
Keywords:
AI medium, MSGm medium, zygotic embryo, plantlet
Abstract
Larix sibirica Ledeb is a frost-hardy tree species (50-70 cm tall) which belong to genus of Larix, and family of Pinaceae Lindl. Our objective was to generate plantlets from zygote embryos of larch tree (Larix sibirica Ledeb) in in vitro condition. Convenient in vitro culture for Larix sibirica.Ldb for shoot formation was MSGm with 2 mg/L BAP, 1 mg/L 2.4-D g/L activated carbon. Root was formatted on MSGm with 1 mg/L BAP, 2 mg/L 2.4-D g/L activated carbon.
Сибирь шинэс (larix sibirica ledeb)-ний бичил ургамлыг гаргах, бойжуулахад өсөлт in vitro орчинд идэвхжүүлэгчийн нөлөө
Хураангуй Нарсны овгийн (Pinaceae Lindl), шинэс (Larix)-ний төрөлд багтах Сибирь шинэс (Larix sibirica  Ldb) нь 24-26 м дундаж өндөртэй 40 м хүртэл өндөр ургадаг модлог ургамал юм. Энэхүү  судалгааны ажлаар Сибирь шинэс (Larix sibirica.Ldb)-ний үр хөврөлөөс in vitro орчинд бичил  ургамлыг гаргаж, бойжуулахад өсөлт идэвхжүүлэгчийн нөлөөг тогтоосон. Сибирь шинэсний  үр хөврөлөөс нахиа үүсгэхэд 2 мг/л ВАР, 1 мг/л 2.4-D, 7 г/л идэвхжүүлсэн нүүрс агуулсан MSGm  тэжээлт орчинд 4 мм хэмжээтэй хөврөлийг өсгөвөрлөх нь хамгийн тохиромжтой. 2.4-D (2  мг/л) болон BAP(1 мг/л ) хослуулсан MSGm тэжээлт орчинд үндэс үүссэн. Сибирь шинэсний  бичил ургамлыг өсөлт идэвхжүүлэгчээр үйлчлэхэд үндэсний урт, хэлбэр сайжирч байгаа учир  шинэсний бичил ургамлыг өсөлт идэвхжүүлэгчийг ашиглах шаардлагатай.
Түлхүүр үг: Үр хөврөл, MSGm тэжээлт орчин, AI үндсэн тэжээлт орчин 
Downloads
Download data is not yet available.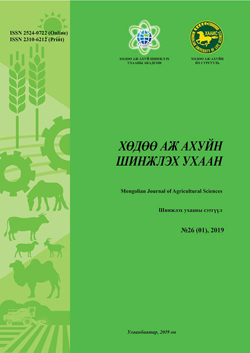 How to Cite
L, T., & V, E. (2019). Larch regeneration (larix sibirica.ldb) from zygote embryos in in vitro and proliferation rate under growth hormone influence. Mongolian Journal of Agricultural Sciences, 26(01), 108-116. https://doi.org/10.5564/mjas.v26i01.1205
Copyright (c) 2019 Tserendejid L, Enkhchimeg V
This work is licensed under a Creative Commons Attribution 4.0 International License.
All rights reserved. Submission of a manuscript implies
that the submitted work has not been published before (except as part of a thesis or lecture note or report, or in the form of an abstract);
that it is not under consideration for publication elsewhere;
that its publication has been approved by all co-authors as well as by the authorities at the institutions where the work has been carried out;
that, if and when the manuscript is accepted for publication, the authors hand over the transferable copyrights of the accepted manuscript to the journal, and
that the manuscript or parts thereof will thus not be published elsewhere in any language without the consent of the copyright holder.
Copyrights include electronic and visual reproduction and distribution; electronic storage and retrieval; and all other forms of publication or any other types of publication including all subsidiary rights.