The result of propagation of sheep and goat pox viral vaccine strains into vero cells
Batmagnai E

Institute of Veterinary Medicine, Mongolian University of Life Sciences, Ulaanbaatar Mongolia

Ariunbold G

Institute of Veterinary Medicine, Mongolian University of Life Sciences, Ulaanbaatar Mongolia

Erdenechimeg D

Institute of Veterinary Medicine, Mongolian University of Life Sciences, Ulaanbaatar Mongolia

Enkhmandakh Yo

Institute of Veterinary Medicine, Mongolian University of Life Sciences, Ulaanbaatar Mongolia

Munkhgerel B

Usukhgerel S

State Veterinary Drug Quality Control laboratory, Ulaanbaatar, Mongolia

Boldbaatar B

Institute of Veterinary Medicine, Mongolian University of Life Sciences, Ulaanbaatar, Mongolia
Keywords:
cytopethic effect(CPE), DNA sequence, alive vaccine
Abstract
Background: Sheep and goat pox viral disease, which affects negatively to our country's economy by prevalence and infection, has high mortality and morbidity rate. Although our country manufactures sheep and goat pox viral vaccine using lamb's testicle tissue in the Biocombinat (Bio-factory), in winter, there is high number of diseased animals, lamb testicle is scarce, therefore there is a need to produce cell-culture based sheep and goat pox vaccine.
Materials and methods: Russian VNIIZJ strain type 2 sheep pox vaccine and Chinese goat pox live vaccine (serial number 010030) antigens were used after 20 times of dilution and propogated into Vero and BHK-21 cell culture. By PCR the result was examined and sequenced by ABI3130xl sequencer machine and sequences were compared by MEGA7 program
Results: 3 days after infection sheep pox and 4 days after infection goat pox were shown CPE (cytopathic effect or cytopathogenic effect) respectively, 6 days after the infection both of them has been shown full CPE. From these infected materials we isolated viral DNA and run PCR assay using Biocombinat's strain as a positive control. PCR products were all equal, 289 bp long. When we compare these DNA sequences of sheep and goat pox viruses, they were 92% identical to complete genome of Indian sheep and goat pox virus.
Conclusion: We can produce cell-culture based live vaccine and diagnostic tests for sheep and goat pox viral disease by re-propagating these strains into Vero.
Хонь, ямааны цэцгийн вирусын вакцины омгийг vero эсэд дасгасан дүн
Хураангуй: Хонь, ямааны цэцгийн вируст өвчин халдвар, тархалт өндөртэй бөгөөд өвчлөл, хорогдлын
түвшин өндөр байгаа нь манай улсын эдийн засагт сөргөөр нөлөөлж байна. Манай улс Биокомбинат (Био-үйлдвэр) үйлдвэрт хонины цэцэг өвчний эсрэг вакциныг хурганы төмсөгний анхдагч эдэд өсгөвөрлөх замаар амьд вакцин, ямааны цэцэг өвчний эсрэг вакциныг ямаанд халдвар хийж ам, хамрын орчинд үүссэн шархны эдийг химийн бодисоор идэвхгүйжүүлэх замаар тус тус үйлдвэрлэж байна. Ялангуяа хонины цэцэг өвчний вакциныг зөвхөн мал төллөх хаврын цагт үйлдвэрлэх боломжтой байдаг нь өвлийн цагт гарсан өвчнийг хянах аргагүйд хүрч байна. Иймээс цаг хугацаанаас хамааралгүй вакцин үйлдвэрлэхэд дамжмал эсийн технологи хэрэглэх зайлшгүй шаардлагатай байна. Оросын VNIIZJ омог
ашигласан 2 төрлийн хонины цэцгийн амьд вакцин, Хятадын ямааны цэцгийн амьд вакцин (серийн дугаар 010030) шингэлж, Vero эсийн өсгөвөрт халдаасан. Стандарт ПГУ-аар үр дүнг шалгаж, ABI3130xl sequencer машинаар үүсгэгчийн нуклеотидын дарааллыг тодорхойлсон ба MEGA7 програмаар дарааллуудыг харьцуулж удам зүйн мод байгуулсан. Эсэд халдвар хийснээс 3 хоногийн дараа хонины цэцэг, 4 хоногийн дараа ямааны цэцэг CPE (cytopathic effect) буюу эс эмгэгшүүлэх нөлөө тус тус үзүүлсэн бөгөөд 6 хоногийн дараа хоёулаа бүрэн CPE үзүүлсэн байна. Эдгээр вирус агуулсан эсийн тэжээлт орчноос бид вирусын ДНХ ялгаж Биокомбинат-ын хонины цэцгийн Перего омгийг эерэг хяналт болгон ашиглаж ПГУ-ын шинжилгээг явуулсан. ПГУ-ын бүтээгдэхүүн бүгд адилхан, 289 хос суурийн урттай байсан. Хонь, ямааны цэцгийн вирусын ДНХ-ийн нуклеотидын дарааллыг харьцуулж үзэхэд хонины
цэцгийн вирусын бүтэн геномтой 92%, ямааны цэцгийн вирусын бүтэн геномтой 90% адилхан
байв. Бид эдгээр өвчний үүсгэгчийг Vero эсэд халдвар хийх нөхцлийг тогтворжуулсан нь
дамжмал эсийн өсгөвөрт суурилсан амьд вакцины түүхий эдийг ихээр бэлтгэх боломжтой
боллоо.
Түлхүүр үг: эсийн өсгөвөр, эсийн эмгэгшил, днх дараалал, амьд вакцин
Downloads
Download data is not yet available.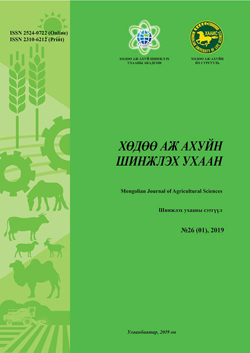 How to Cite
E, B., G, A., D, E., Yo, E., B, M., S, U., & B, B. (2019). The result of propagation of sheep and goat pox viral vaccine strains into vero cells. Mongolian Journal of Agricultural Sciences, 26(01), 3-9. https://doi.org/10.5564/mjas.v26i01.1190
Copyright (c) 2019 Batmagnai E, Munkhgerel B, Ariunbold G, Erdenechimeg D, Enkhmandakh Yo, Usukhgerel S, Boldbaatar B
This work is licensed under a Creative Commons Attribution 4.0 International License.
All rights reserved. Submission of a manuscript implies
that the submitted work has not been published before (except as part of a thesis or lecture note or report, or in the form of an abstract);
that it is not under consideration for publication elsewhere;
that its publication has been approved by all co-authors as well as by the authorities at the institutions where the work has been carried out;
that, if and when the manuscript is accepted for publication, the authors hand over the transferable copyrights of the accepted manuscript to the journal, and
that the manuscript or parts thereof will thus not be published elsewhere in any language without the consent of the copyright holder.
Copyrights include electronic and visual reproduction and distribution; electronic storage and retrieval; and all other forms of publication or any other types of publication including all subsidiary rights.