Separation of medical nanopowder from the natural minerals by supercritical CO2
J Oyun

Chemistry Department, Ulaanbaatar school, National University of Mongolia
Keywords:
Supercritical CO2, saturated gas, nanopowder, spar, amorphous crystal
Abstract
Nano-sized medical raw material has been derived from the medical quality natural spar (CaCO3) without the use of chemical salt. The theoretical base of the method consists in the transferring and keeping CO2 to a supercritical state during thermo-chemical processing of the spar at 900-950°C. The supercritical CO2 has a form of solid solution that holds the properties of both gas and solid. Afterwards, with dissolving it in the animal milk, the solution is equalized by the sovent's expansion with the decrease of temperature and creates amorphous crystal nanopowder. The size of the resultant product was determined both by XRD and TEM analysis as to be 13.51 nm (Lu »13.09 nm).
DOI: http://dx.doi.org/10.5564/mjc.v14i0.202
Mongolian Journal of Chemistry 14 (40), 2013, p66-70
Downloads
Download data is not yet available.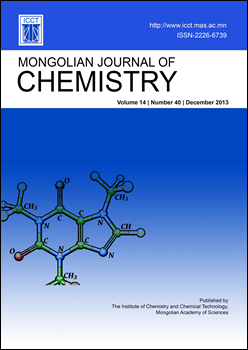 How to Cite
Oyun, J. (2014). Separation of medical nanopowder from the natural minerals by supercritical CO2. Mongolian Journal of Chemistry, 14, 66-70. https://doi.org/10.5564/mjc.v14i0.202
Copyright on any research article in the Mongolian Journal of Chemistry is retained by the author(s).
The authors grant the Mongolian Journal of Chemistry a license to publish the article and identify itself as the original publisher.

Articles in the Mongolian Journal of Chemistry are Open Access articles published under a Creative Commons Attribution 4.0 International License CC BY.
This license permits use, distribution and reproduction in any medium, provided the original work is properly cited.