Dissolution behaviour of freibergite-tetrahedrite concentrate in acidic dichromate solution
Sh Nyamdelger

Institute of Chemistry and Chemical Technology, MAS, Peace ave., Ulaanbaatar 13330

G Burmaa

Institute of Chemistry and Chemical Technology, MAS, Peace ave., Ulaanbaatar 13330

T Narangarav

Institute of Chemistry and Chemical Technology, MAS, Peace ave., Ulaanbaatar 13330

G Ariunaa

Institute of Chemistry and Chemical Technology, MAS, Peace ave., Ulaanbaatar 13330
Keywords:
dissolution, freibergite-tetrahedrite concentrate, dichromate
Abstract
Asgat ore sample with estimated content of 431g/t silver was concentrated by using floatation method and obtained freibergite-tetrahedrite concentrate with 9050g/t Ag, 35.75% Cu, 28.5% Sb and 10.6% Fe, respectively. The dissolution of concentrate in acidic potassium dichromate solution has been investigated with respect to the sulfuric acid and potassium dichromate concentrations and by changing leaching temperature and time. Leaching freibergitetetrahedrite concentrate in dichromate acidic solution (K2Cr2O7-0.1M, H2SO4-0.4M leaching time 4h, leaching temperature 95°С) resulted total amount of leaching of 95.65 % silver, 93.85% copper, 99.86 % antimony and 30.18% iron.
DOI: http://dx.doi.org/10.5564/mjc.v14i0.196
Mongolian Journal of Chemistry 14 (40), 2013, p36-40
Downloads
Download data is not yet available.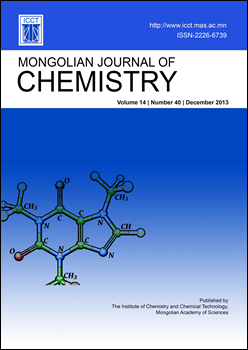 How to Cite
Nyamdelger, S., Burmaa, G., Narangarav, T., & Ariunaa, G. (2014). Dissolution behaviour of freibergite-tetrahedrite concentrate in acidic dichromate solution. Mongolian Journal of Chemistry, 14, 36-40. https://doi.org/10.5564/mjc.v14i0.196
Copyright on any research article in the Mongolian Journal of Chemistry is retained by the author(s).
The authors grant the Mongolian Journal of Chemistry a license to publish the article and identify itself as the original publisher.

Articles in the Mongolian Journal of Chemistry are Open Access articles published under a Creative Commons Attribution 4.0 International License CC BY.
This license permits use, distribution and reproduction in any medium, provided the original work is properly cited.