Synthesis and antifungal activity investigation of a novel clotrimazole derivative
B Zoljargal

Department of Biochemistry and Laboratory medicine, School of Biomedicine, Health Sciences University of Mongolia, Zorig Street-3, Ulaanbaatar 210648

N Davaasuren

Department of Medical Chemistry, School of Pharmacy, Health Sciences University of Mongolia
Keywords:
Clotrimazole, biphenyl derivative, azole antifungals
Abstract
Azole antifungal agents disrupt fungal ergosterol synthesis that is essential for the formation of fungal cell membrane by preventing 14-α-demethylase enzyme from binding to its substrate. Clotrimazole is one of the first generations of azole antifungal agents. To discover a novel azole antifungal agent, biphenyl derivative was synthesised together with clotrimazole by multistep linear synthesis. Structures of synthesised azole agents have been validated by spectral analysis and potential antifungal activity of both compounds was determined on an yeast, E.coli and M.luteus by using a disk diffusion method. Clotrimazole and its biphenyl derivative were active against yeast but a novel compound resulted less activity than clotrimazole. Antibacterial effect was not observed for either azole agents.
DOI: http://dx.doi.org/10.5564/mjc.v14i0.194
Mongolian Journal of Chemistry 14 (40), 2013, p28-32
Downloads
Download data is not yet available.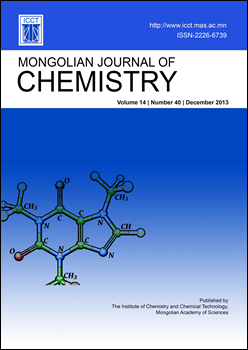 How to Cite
Zoljargal, B., & Davaasuren, N. (2014). Synthesis and antifungal activity investigation of a novel clotrimazole derivative. Mongolian Journal of Chemistry, 14, 28-32. https://doi.org/10.5564/mjc.v14i0.194
Copyright on any research article in the Mongolian Journal of Chemistry is retained by the author(s).
The authors grant the Mongolian Journal of Chemistry a license to publish the article and identify itself as the original publisher.

Articles in the Mongolian Journal of Chemistry are Open Access articles published under a Creative Commons Attribution 4.0 International License CC BY.
This license permits use, distribution and reproduction in any medium, provided the original work is properly cited.