Fourier Transform Infrared Spectroscopy Study on Cation adsorption on Viscose Rayon Succinate
D Khasbaatar

Institute of Chemistry and Chemical Technology, Mongolian Academy of Sciences, Peace avenue 13330, Ulaanbaatar 210351

Ung Su Choi

Energy Mechanics Research Center, Korea Institute of Science and Technology, Seongbuk gu, Hawolgok dong 39-1,Seoul
Keywords:
chelating fiber, cellulose, viscose rayon, metal adsorption, carboxyl group, FT-IR, pH selectivity
Abstract
Ion-exchange materials have been considered as suitable material for the recovery of heavy metals in water. A viscose rayon succinate, synthesized from viscose rayon and succinic anhydride in presence of DMSO, to remove trace bivalent metal ions such as Ag+, Cu2+, Ni2+, Pb2+, Zn2+ and Cr3+, was studied using FT-IR for the behavior of metal adsorption. Both esterification and carboxyl bonding of viscose rayon succinate were assigned essentially at 1729 and 1693cm-1, respectively. And the essential band of bonding between metal and the material was determined at 1625cm-1. The available adsorption capacity of this fiber was 6.2 mequiv/g. The adsorption of metal ions on the viscose rayon succinate follows the order of Cu2+>Cr3+>Ni2+>Pb2+>Zn2+>Ag+ with maximum adsorptions capacities 4.2, 1.42, 0.91, 0.83, 0.69 and 0.35 mmol/g, respectively.
DOI: http://dx.doi.org/10.5564/mjc.v12i0.189
Mongolian Journal of Chemistry Vol.12 2011: 136-141
Downloads
Download data is not yet available.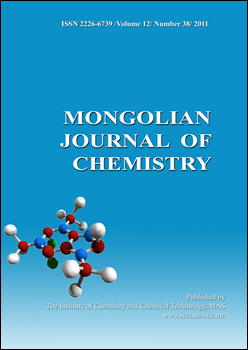 How to Cite
Khasbaatar, D., & Choi, U. (2014). Fourier Transform Infrared Spectroscopy Study on Cation adsorption on Viscose Rayon Succinate. Mongolian Journal of Chemistry, 12, 136-141. https://doi.org/10.5564/mjc.v12i0.189
Copyright on any research article in the Mongolian Journal of Chemistry is retained by the author(s).
The authors grant the Mongolian Journal of Chemistry a license to publish the article and identify itself as the original publisher.

Articles in the Mongolian Journal of Chemistry are Open Access articles published under a Creative Commons Attribution 4.0 International License CC BY.
This license permits use, distribution and reproduction in any medium, provided the original work is properly cited.