Petrochemical characteristics of late Paleozoic magmatic rocks of the Mandakh area, southeast Mongolia
Undarmaa Batsaikhan

Department of Geology and Hydrogeology, School of Geology and Mining Engineering, Mongolian University of Science and Technology, Ulaanbaatar 14191, Mongolia

Tsuchiya Noriyoshi

Geomaterial and Energy Science Laboratory, Graduate School of Environmental Studies, Tohoku University, Aoba 6-6-20, Aramaki Aoba-ku, Sendai 980-8579, Japan

Chimedtseren Anaad

Department of Geology and Hydrogeology, School of Geology and Mining Engineering, Mongolian University of Science and Technology, Ulaanbaatar 14191, Mongolia

Batkhishig Bayaraa

Department of Geology and Hydrogeology, School of Geology and Mining Engineering, Mongolian University of Science and Technology, Ulaanbaatar 14191, Mongolia
Keywords:
pyrite, subduction, porphyry mineralization, I-type adakite
Abstract
The late Paleozoic magmatic rocks are widely distributed in the Mandakh area which is located in the Gurvansaikhan and Manlai terrains, where porphyry Cu deposits occur. In this paper we discuss petrochemical features and mineral assemblages of magmatic rocks in the Mandakh area. Furthermore, we compared petrochemical characteristics of magmatic rocks in the Mandakh area with host magmatic rocks of the Tampakan deposit (Philippines), Cerro Colorado deposit (Chili) and negative criteria of Cu deposits (Japan) due to try to characterize potential of the porphyry copper deposit related to magmatic rocks in Mandakh area. Geochemical features of magmatic rocks in Mandakh area are calc-alkaline, magnetite-series, I-type and similar to adakite type. The Devonian intrusive rocks comprised of syenite and syenogranite, while the Carboniferous intrusive rocks consist of granodiorite, monzodiorite, quartz-monzonite and hornblende granite. Devonian magmatic rocks are more alkaline in composition. Although, Devonian and Carboniferous magmatic rocks are slightly different from each other. Comparing with bonanza copper deposits in the world, they are possible to host porphyry mineralization.
Downloads
Download data is not yet available.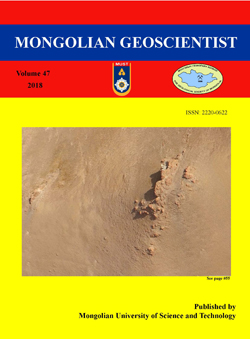 How to Cite
Batsaikhan, U., Noriyoshi, T., Anaad, C., & Bayaraa, B. (2018). Petrochemical characteristics of late Paleozoic magmatic rocks of the Mandakh area, southeast Mongolia. Mongolian Geoscientist, (47), 5-21. https://doi.org/10.5564/mgs.v0i47.1061
Copyright on any research article in the Mongolian Geoscientist is retained by the author(s).
The authors grant the Mongolian Geoscientist a license to publish the article and identify itself as the original publisher.

Articles in the Mongolian Geoscientist are Open Access articles published under a Creative Commons Attribution 4.0 International License CC BY.
This license permits use, distribution and reproduction in any medium, provided the original work is properly cited.