Drone brings new advance of geological mapping in Mongolia: Opportunities and challenges
Keywords:
remote sensing, inaccessible outcrops, geological map
Abstract
Unmanned aerial vehicles (UAVs) or drones have revolutionized scientific research in multiple fields. Drones provide us multiple advantages over conventional geological mapping or high-altitude remote sensing methods, in which they allow us to acquire data more rapidly of inaccessible or risky outcrops, and can connect the spatial scale gap in mapping between manual field techniques and airborne, high-altitude remote sensing methods. Despite the decreased cost and technological developments of platforms, sensors and software, the use of drones for geological mapping in Mongolia has not yet been utilized. In this study, we present using of drone in two areas: the Chandman area in which eclogite is exposed and the Naran massif of the Khantaishir ophiolite in the Altai area. Drone yields images with high resolution that is reliable to use and reveals that it is possible to make better formulation of geological mapping. Our suggestion is that (1) Mongolian geoscientists are encouraged to add drones to their geologic toolboxes and (2) drone could open new advance of geological mapping in Mongolia in which geological map will be created in more effective and more detailed way combined with conventional geological survey on ground.
Downloads
Download data is not yet available.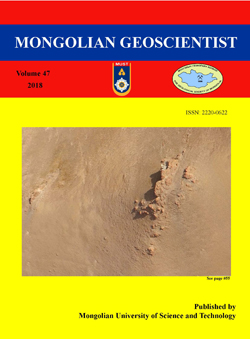 Downloads
How to Cite
Dandar, O., Okamoto, A., Uno, M., Batsaikhan, U., Ulziiburen, B., & Tsuchiya, N. (2018). Drone brings new advance of geological mapping in Mongolia: Opportunities and challenges. Mongolian Geoscientist, (47), 53–57. https://doi.org/10.5564/mgs.v0i47.1063
Section
Scientific communication
License
Copyright on any research article in the Mongolian Geoscientist is retained by the author(s).
The authors grant the Mongolian Geoscientist a license to publish the article and identify itself as the original publisher.

Articles in the Mongolian Geoscientist are Open Access articles published under a Creative Commons Attribution 4.0 International License CC BY.
This license permits use, distribution and reproduction in any medium, provided the original work is properly cited.