Potential impacts of climate change on Mongolia's plant protection status quo
Keywords:
Mongolia, Climate Change, Migratory locust, Colorado beetle, plant protection
Abstract
Mongolia's 2030 Sustainable Development Vision set a goal to be a self-sufficient in grain, potatoes and vegetables by 2030. However, Mongolia's pastoral animal husbandry and rain-fed agriculture are extremely sensitive to climate change. The Asian migratory locust is considered as the most harmful grasshopper in the world. Until 1970th, these locust's distribution areas in Mongolia were confined to oasis of Gobi deserts. A study on Asian migratory locust in Russia predicts distribution and formation of new permanent habitats of the locust in Chita oblast, Krasnoyarsk territory and Republic of Tyva. The Colorado beetle is one of the world's most infamous invasive species due to its rapid adaptation to a wide range of ecological conditions and ability to disperse long distances. The climate modeling of Colorado beetle showed that with current trend, the beetle will expand its distribution into the most eastern and north-eastern regions of the Russian Federation. In China, the Colorado beetle was first detected in Xinjiang in 1993 and subsequently spread eastward. In China the Colorado beetle is currently expanding its areas at rate of 25 kms year (12-45 kms/year). Both species' distribution patterns in neighboring countries show eventual establishment of permanent habitats around Mongolia. Their invasion to Mongolia will threaten country's food security due to direct destruction of cereal and potato crops, and increased application of highly toxic pesticides. In light of these threats, Mongolia should start taking serious preventive measures by increasing surveillance and dedicated risk assessment studies for potential agricultural pests and diseases.
Downloads
Download data is not yet available.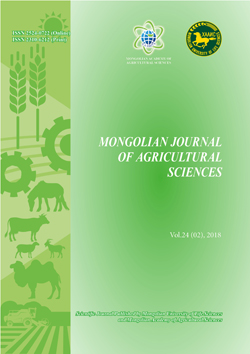 Downloads
How to Cite
B, B., & Kh, B. (2018). Potential impacts of climate change on Mongolia's plant protection status quo. Mongolian Journal of Agricultural Sciences, 24(02), 26–32. https://doi.org/10.5564/mjas.v24i02.1111
License
Copyright on any research article in the Mongolian Journal of Agricultural Sciences is retained by the author(s).
The authors grant the Mongolian Journal of Agricultural Sciences a license to publish the article and identify itself as the original publisher.

Articles in the Mongolian Journal of Agricultural Sciences are Open Access articles published under a Creative Commons Attribution 4.0 International License CC BY.
This license permits use, distribution and reproduction in any medium, provided the original work is properly cited.