DUNALIELLA ЗАМГИЙН ФИЗИОЛОГИ, БИОХИМИЙН СУДАЛГААНЫ ДҮН
Keywords:
Dunaliella, microalgae, cell morphology. growth rate, protein.
Abstract
The genus Dunaliella is widely studied microalgae for its tolerance to extreme conditions, physiological aspects and many biotechnological applications, such as beta-carotene, protein, lipids and many other bioactive compounds. Physiological and biochemical studies are essential to fully explore the properties and possibilities of new isolates of Dunaliella.
The aim of this study was to describe cellular morphology, growth rate and protein content of three Dunaliella strains, isolated from salty lakes in Mongolia. The cellular morphology, growth rates, protein contents were studied using microscopic analyses, Neubauer's chamber, and micro kjeldahl method.
Results showed that growths of all three Dunaliella cultures were progressed through lag phase at 3rd day. The growth of Dunaliella D-1 reached its peak on day 6, while Dunaliella D-6 and D-7 reached their stationary phase on day 7. Furthermore, the protein contents of dry biomass in Dunaliella D-1, D-6 and D-7 cultures were 62.2%, 36.1% and 38.15%, respectively. The highest protein content was found in Dunaliella D-1 culture, hence this culture could be used as protein rich supplement in further study.
Downloads
Download data is not yet available.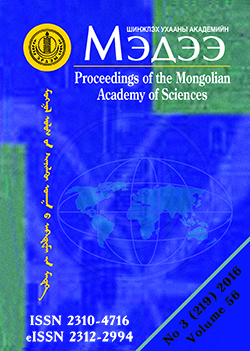 Downloads
How to Cite
Одгэрэл, Б., & Цэрэндулам, Д. (2016). DUNALIELLA ЗАМГИЙН ФИЗИОЛОГИ, БИОХИМИЙН СУДАЛГААНЫ ДҮН. Proceedings of the Mongolian Academy of Sciences, 56(3), 60–65. https://doi.org/10.5564/pmas.v56i3.691
License
Copyright on any research article in the Proceedings of the Mongolian Academy of Sciences is retained by the author(s).
The authors grant the Proceedings of the Mongolian Academy of Sciences a license to publish the article and identify itself as the original publisher.

Articles in the Proceedings of the Mongolian Academy of Sciences are Open Access articles published under a Creative Commons Attribution 4.0 International License CC BY.
This license permits use, distribution and reproduction in any medium, provided the original work is properly cited.