MITOCHONDRIAL DNA ANALYSIS OF ANCIENT DOMESTIC GOAT IN THE MONGOLIA
Temuujin J

Institute of Plant Protection, Mongolian University of Life Sciences, Ulaanbaatar

Khaliunaa T

Department of Biology, School of Arts and Sciences, National University of Mongolia, Ulaanbaatar

Batsaikhan Z

Department of Biology, School of Arts and Sciences, National University of Mongolia, Ulaanbaatar

Ochirkhuyag B

Department of Biology, School of Arts and Sciences, National University of Mongolia, Ulaanbaatar

Khulan J

Department of Biology, School of Arts and Sciences, National University of Mongolia, Ulaanbaatar

Janchiv Ts

Institute of General and Experimental Biology, Mongolian Academy of Sciences, Ulaanbaatar
Keywords:
Capra hircus, mtDNA, 3rd century BCE, haplotypes, 13 century AD haplotypes, haplogroup, D-loop, genetic diversity,
Abstract
Food and agricultural production sector, especially livestock production is vital for Mongolia's economic and social development. The five breeds of livestock – cattle, horses, sheep, goats and camels, have always been directly related to the history, culture and economy of Mongolia. It is undeniable that these five breeds of livestock are considered as an important asset of the Mongolian economy as well as guarantee of national security. Out of the five breeds, small livestock including sheep and goats account for more than 80% of the total livestock population (according to the National Statistical Office data). It is not hard to retrieve research and recorded materials about the morphology or the economic productivity of these breeds and their sub-breeds. However, the development of society now demands higher yield from the livestock animals. Genetically, the a1, a2, a3 and a4 samples appertaining to some 3,000 years ago are substantially different from the haplogroups. However, judging by the phylogenetic tree the 800 year-old samples, as compared to the phylogroups of the 3rd century BC, are closer to the modern samples. Alongside this, from molecular distance we find that the M1 haplogroup is a sample belonging to the 3rd century BC, which had separated the earliest, while the aforementioned 800 year-old sample separates at a later period, which chronologically is convincing. But the a6 ancient sample conforms to the B haplogroup and the a8 or the sample of 800 years ago is in the same haplogroup as the sample of the 3rd century BC. However, the a6 sample obtained from the 3rd century BC tombs obtained sample was the origin of modern goats that can be included in haplogroup B.
Downloads
Download data is not yet available.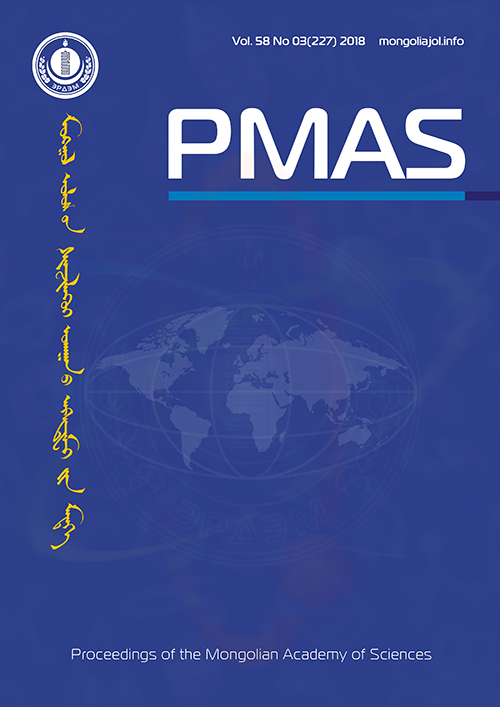 How to Cite
J, T., T, K., Z, B., B, O., J, K., & Ts, J. (2018). MITOCHONDRIAL DNA ANALYSIS OF ANCIENT DOMESTIC GOAT IN THE MONGOLIA. Proceedings of the Mongolian Academy of Sciences, 58(3), 59-65. https://doi.org/10.5564/pmas.v58i3.1036
Copyright (c) 2018 Temuujin J, Khaliunaa T, Batsaikhan Z, Ochirkhuyag B, Khulan J, Janchiv Ts
This work is licensed under a Creative Commons Attribution 4.0 International License.
Copyright on any research article in the Proceedings of the Mongolian Academy of Sciences is retained by the author(s).
The authors grant the Proceedings of the Mongolian Academy of Sciences a license to publish the article and identify itself as the original publisher.

Articles in the Proceedings of the Mongolian Academy of Sciences are Open Access articles published under a Creative Commons Attribution 4.0 International License CC BY.
This license permits use, distribution and reproduction in any medium, provided the original work is properly cited.