CHARACTERISING SEASONAL VARIATIONS AND SPATIAL DISTRIBUTION OF AMBIENT PM2.5 CONCENTRATION BASED ON SHORT-TERM MONITORING IN DARKHAN CITY
Abstract
The purpose of this study was to survey the seasonal variation of fine particulate matter (PM2.5) concentration and determine spatial distribution in Darkhan city. Air pollution research and reports have been few and far between in most of parts in Mongolia, especially in Darkhan with respect to quantitative aerosol particle concentration. In this study, we utilized "PM2.5sensor" to measure spatial and seasonal variation of particulate matter concentrations in the study area. The monitoring points were chosen by basing on their specific features and set up directly at ambience outdoor. In each season, we carried out measurement at 3 points, which covered the ger district and apartment district areas for one day. Whereas, at one point the ger district was sampled for 4 days in summer. Fine particulate matter concentrations were the highest in the ger district area because there are many households that use coal for their daily heating and cooking, and at the bared surface. As for seasonal variation, in winter pollution reached 400 times higher than other seasons. Furthermore, at the ger district area, PM2.5 concentration was as much as 20 times greater than other points and it was observed that this too had its impact on the apartment district as well. As regards the air quality index, the level of particulate matter in the ger district area is extremely unhealthy to hazardous in winter. While, good and moderate indexes were mostly identified at monitoring points during the springtime.
Downloads
Download data is not yet available.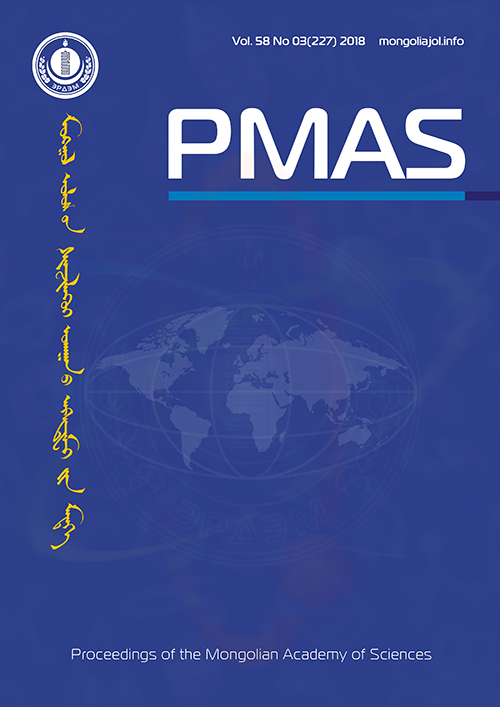 Downloads
How to Cite
B, C., Ch, S., Ch, B., & Matsumi, Y. (2018). CHARACTERISING SEASONAL VARIATIONS AND SPATIAL DISTRIBUTION OF AMBIENT PM2.5 CONCENTRATION BASED ON SHORT-TERM MONITORING IN DARKHAN CITY. Proceedings of the Mongolian Academy of Sciences, 58(3), 18–27. https://doi.org/10.5564/pmas.v58i3.1031
License
Copyright on any research article in the Proceedings of the Mongolian Academy of Sciences is retained by the author(s).
The authors grant the Proceedings of the Mongolian Academy of Sciences a license to publish the article and identify itself as the original publisher.

Articles in the Proceedings of the Mongolian Academy of Sciences are Open Access articles published under a Creative Commons Attribution 4.0 International License CC BY.
This license permits use, distribution and reproduction in any medium, provided the original work is properly cited.