Research on measurements of 2nd class leveling
Keywords:
reference point, polygon, leveling reference network, vertical movement
Abstract
The leveling reference network of Mongolia was established during 1940-1949 by the leveling measurements of class II, III and IV. This work was completed by the Military Service of the Soviet Union (formerly USSR). Repeated measurements were carried out by the Mongolian Geodesy and Cartography Agency for 17 years between 1974-1991. Although, interim reviewing of the leveling measurements has been done, final result of equilibrium calibration did not achieve the network precision of accuracy, due to measurement technology at that time. According to international standards, leveling measurements for the leveling network should be repeated in 5-10 years, in relation to the soil migration and vertical movement of the earth's crust. The modern digital technologies using digital techniques (barcode rods and electronic levels) for leveling network allows for high quality network within a relatively short period. Therefore, repeated measurements for the reference network of Mongolia has been carried out since 2011, and total of 28061 km long network built using both direct and inverted ways of digital leveling. We have done comparative study for 2nd class leveling measurements of 39th line of 13th polygon of reference network of Mongolia. As a result, the comparison of 1945 and 2011 year's data, max 74.6 cm elevation level difference was calculated in reference point of Рп1496-Рп1595. Likewise; 8.2 cm elevation level difference was calculated in reference point number of Рп1451-Тп01, data of 1975 and 2011.
Нивелирдлэгийн II ангийн хэмжилтийн судалгаа
Хураангуй: Монгол Улсын өндрийн тулгуур сүлжээг анх 1940-1949 онд нивелирдлэгийн II, III ба IV ангийн хэмжилтүүдээр байгуулсан байдаг. Энэ ажлыг ЗХУ-ын Улаан армийн цэргийн байр зүйн алба (хуучин нэрээр) хийж гүйцэтгэсэн. Давтан хэмжилтийн ажлыг 1994 - 199 1 оны хооронд 17 жил Монгол Улсын геодези зураг зүйн газар хийсэн. Хэмжилтийн ажлын чанарт завсрын үнэлгээ хийж байсан ч тэгшитгэн бодолтын эцсийн үр дүнгээр сүлжээний нарийвчлалын бодит байдлыг хангаж чадаагүй нь тухайн үеийн хэмжилтийн технологиос үүдэлтэй. Хөрсний шилжилт хөдөлгөөн болон дэлхийн царцдасын босоо хөдөлгөөнийг тодорхойлох, олон улсын судалгааны тогтсон стандартын дагуу өндрийн тулгуур сүлжээг 5-10 жилд давтан хэмжиж байх шаардлагатай байдаг. Орчин үеийн нивелирдлэгийн хэмжилтийг тоон технологи (бар кодтой рейк ба тоон нивелир )ашиглан харьцангуй богино хугацаанд чанарын өндөр түвшинд хийж гүйцэтгэх боломж нөхцөл бүрдсэн. Тийм учраас Монгол Улсын өндрийн тулгуур сүлжээний давтан хэмжилтийн ажлыг 2011 оноос эхлэн шууд ба урвуу чиглэлд нийт 26081км урт өндрийн сүлжээг тоон нивелир ашиглан хийж гүйцэтгэсэн байдаг. Монгол Улсын өндрийн сүлжээний 13-р полигоны 39-р шугамын нивелирдлэгийн II ангийн хэмжилтүүдийг харьцуулан судаллаа. Өндөржилтийн зөрүү хамгийн ихдээ 1945-2011 онд Рп1496-Рп1595 реперүүдийн хооронд - 94 . 8см, 1975-2011 онд Рп1451-Тп01 реперүүдийн хооронд 8.2 см байна.
Түлхүүр үг: Репер цэг, полигон, өндрийн тулгуур сүлжээ, царцдасын босоо хөдөлгөөн
Downloads
Download data is not yet available.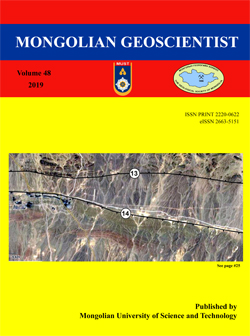 Downloads
How to Cite
Luvsandagva, P., & Oyuntsetseg, D. (2019). Research on measurements of 2nd class leveling. Mongolian Geoscientist, (48), 40–48. https://doi.org/10.5564/mgs.v0i48.1147
License
Copyright on any research article in the Mongolian Geoscientist is retained by the author(s).
The authors grant the Mongolian Geoscientist a license to publish the article and identify itself as the original publisher.

Articles in the Mongolian Geoscientist are Open Access articles published under a Creative Commons Attribution 4.0 International License CC BY.
This license permits use, distribution and reproduction in any medium, provided the original work is properly cited.