Converting a Political Goal to Reality: The First Steps to Materialize Mongolia's Nuclear-Weapon Free Status
Abstract
In this article the author documents chronologically the initial steps taken by Mongolia to promote its initiative to turn its territory into a nuclear-weapon-free zone by having the General Assembly of the United Nations acknowledge and express support for such a status. This is not an analytical but a chronologically descriptive article that is based on the materials available to the Mongolian side only. It does not cover the discussions that the five nuclear-weap­ons States (the P5)1 had when preparing responses to Mongolia's various substan­tive or procedural proposals, nor the discussions held in their capitals on either how to respond bilaterally to Mongolia's suggestions or as P3 (US, UK and France) or P5. As with achieving durable peace, establishing a credible nuclear-weapon-free zone status is both a goal and a process. In this case the goal can be achieved through collective efforts and gradually. The process will continue until a viable status is established that would form part of an internationally agreed nuclear-weapon-free regime. To achieve this goal close cooperation is needed. The article will describe the Mongolian example of how multilateralism and mutual under­standing are essential in addressing the challenges that the international commu­nity is facing in this increasingly interdependent world. Competition, cooperation and compromise are the indispensable approaches and tools to address these and other international goals and challenges. When undertaking this chronology of the measures taken to have the General Assembly of the United Nations adopt in 1998 its first resolution on Mongolia's nuclear-weapon-free status, the author, as still public servant, deliberately refrained from making in-depth analysis or value judgments of the positions taken by Mongolia or the P5 separately or as a group with respect to the substance of the issues involved or procedures followed.
DOI: http://dx.doi.org/10.5564/mjia.v0i17.80
Mongolian Journal of International Affairs, No.17 2012: 18-58
Downloads
Download data is not yet available.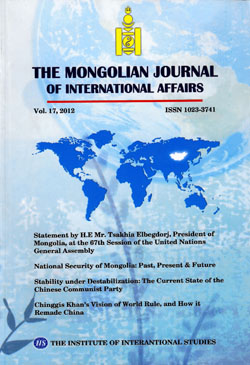 Downloads
How to Cite
Enkhsaikhan, J. (2013). Converting a Political Goal to Reality: The First Steps to Materialize Mongolia's Nuclear-Weapon Free Status. Mongolian Journal of International Affairs, (17), 18–58. https://doi.org/10.5564/mjia.v0i17.80
License
Copyright on any research article in the Mongolian Journal of International Affairs is retained by the author(s).
The authors grant the Mongolian Journal of International Affairs a license to publish the article and identify itself as the original publisher.

Articles in the Mongolian Journal of International Affairs are Open Access articles published under a Creative Commons Attribution 4.0 International License CC BY.
This license permits use, distribution and reproduction in any medium, provided the original work is properly cited.