Mongolia and the Dilemmas of Deepening Eurasian Continentalism
Alicia Campi

The Mongolia Society The Mongolia Society P.O. Box 2552 Bloomington
Abstract
Mongolia is geographically in the heart of the Asian continent. In the 20th century it was part of the geopolitical "Great Game" among Russia, China, and Japan. In the 21st century, the pull of energy and mineral resource economics has changed the circumstances of the Eurasian continental paradigm and could provide the opportunity for this landlocked, Inner Asian country to find economic success, strengthen its national identity, and raise its global
image. This paper will examine Mongolian reaction to the various Silk Roadinfluenced
policies of its neighbors as it struggles not to be ignored in the emerging continental dynamism.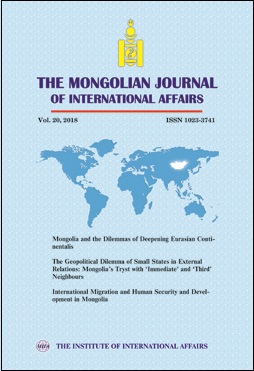 How to Cite
Campi, A. (2018). Mongolia and the Dilemmas of Deepening Eurasian Continentalism. Mongolian Journal of International Affairs, 20, 3-25. https://doi.org/10.5564/mjia.v20i0.1022