A Carcharodontosaurid tooth from the Hasandong Formation (Lower Cretaceous) of South Korea
Chan-gyu Yun

Biological Sciences, Inha University
Keywords:
Theropoda, Carcharodontosauridae, Hasandong Formation, South Korea
Abstract
A large tooth of theropod dinosaur that was recovered from the Hasandong Formation (Aptian-Albian) in South Korea is redescribed. Although the tooth was misidentified as a megalosaurid at the first time, detailed comparisons with known theropod dentition anatomy strongly indicate that this tooth belongs to an Acrocanthosaurus-like basal carcharodontosaurid theropod. This tooth is different from other carcharodontosaurid teeth from the same formation in several anatomical aspects (e.g., presence of transverse lines adjacent to the distal carina, denticle densities, crown basal ratio), indicating that carcharodontosaurid diversity in the Early Cretaceous of Korea could have been higher, although these differences may represent positional or individual variations. The presence of Acrocanthosaurus-like theropod teeth from Korea, Japan, Mongolia and China indicates that North American Acrocanthosaurus atokensis possibly represents a form that immigrated from the Asia.
Downloads
Download data is not yet available.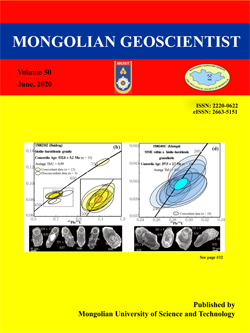 How to Cite
Yun, C.- gyu. (2020). A Carcharodontosaurid tooth from the Hasandong Formation (Lower Cretaceous) of South Korea. Mongolian Geoscientist, 50, 2-10. https://doi.org/10.5564/mgs.v50i0.1305
Copyright (c) 2020 Chan-gyu Yun
This work is licensed under a Creative Commons Attribution 4.0 International License.
Copyright on any research article in the Mongolian Geoscientist is retained by the author(s).
The authors grant the Mongolian Geoscientist a license to publish the article and identify itself as the original publisher.

Articles in the Mongolian Geoscientist are Open Access articles published under a Creative Commons Attribution 4.0 International License CC BY.
This license permits use, distribution and reproduction in any medium, provided the original work is properly cited.